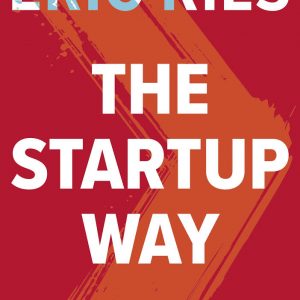 We translated Lean Startup book into finnish language and it has been great success. Finnish language is rare language and unfortunately even universities don't have proper vocabulary for all terms used in lean methods. Most teaching in universities are now in english so we are missing many words in finnish language. During our translation work we worked with over 400 specialists to translate terms and we published open source lean startup dictionary https://theleanstartup.fi/lean-startup-sanasto/#englanti . These translations are also added to finnish online dictionaries Ilmainen sanakirja and kaannos.com
Eric Ries published Startup Way on October 17th 2017 which is focusing on how modern companies use entrepreneurial management to transform culture and drive long-term growth. This book has new methods and terms that also finns need to learn.
On March 2018 I was preparing our crazy charity motorbike trip from India to Finland over Himalayan mountains, yes you read it right: From India to Finland over Himalayan mountains and I wanted to do something meaningful on my trip also. We had charity project where we helped local girls and children schools to raise awareness and we brought them goods. I also wrote email to Eric Ries and his team if I could translate also his new book. I got license.
My plan was to translate 1 page per day. 400 pages = 400 days. During the trip I got 60 pages ready. Now 400 days later book is translated. Thanks for everyone who has helped in proofreading. Next step is that book will be prepared for print and published in October 17th 2019.
---
Käänsimme Lean Startup kirjan suomen kielelle ja kirjasta tuli suuri menestys. Suomen kieli on rikas kieli, mutta helposti ilman yhteisiä termejä asioita ymmärretään monella tavalla. Edes yliopistoissa ei ole yhtenäistä sanastoa kaikille lean menetelmissä käytetyille termeille. Yliopistoissa opetus on nykyään isolta osin englanniksi, joten suomen kielen termeille ei synny edes korkeakoulutuksen yhteydessä luontevaa sanastoa alan opiskelijoille. Käännöstyön yhteydessä loimme yli 400 asiantuntijan kanssa yhteisen sanaston ja julkaisimme tämän avoimen sanakirjan ilmaiseksi kaikkien käyttöön  https://theleanstartup.fi/lean-startup-sanasto/#englanti . Nämä käännökset on lisätty myös Ilmainen sanakirja ja kaannos.com sanakirjaan.
Eric Ries julkaisi Startup way kokeilukulttuurin johtaminen kirjansa englanniksi lokakuun 17 päivä vuonna 2017. Kirja kertoo siitä miten modernit yritykset ja organisaatiot hyödyntävät sisäisen yrittäjyyden johtamista luodessaan kokeilukulttuuria ja kestävää pitkän aikavälin menestystä. Tässä kirjassa on uusia menetelmiä ja termejä joita myös meidän suomalaisten on hyvä lukea äidinkielellä, koska äidinkielellä oppiminen on useimmille helpompaa ja näin isojen asioiden oppiminen ei ole helppoa. Olen itse lukenut kirjan nyt noin 40 kertaa ja vaikka olen käyttänyt Lean startup menetelmiä jo vuosikausia niin ymmärrän nyt asioita syvemmin kuin koskaan.
Maaliskuussa 2018 olin valmistautumassa meidän huikeaan moottoripyöräseikkailuun Intiasta Himalaja-vuorten yli Suomeen. Meillä oli ohjelmassa tyttöjen ja lasten koulujen auttaminen sekä tavaralahjoituksilla, että tietoisuuden lisäämisellä. Miljoonat ihmiset ympäri maailmaa lukivat reissustamme ja samalla pystyimme kertomaan miten tärkeää on, että tytöt ja pojat käyvät kouluja ja oppivat laskemaan ja lukemaan. Halusin myös tehdä jotain muutakin hyödyllistä. Kirjoitin sähköpostin Eric Riesille ja hänen tiimilleen jossa tiedustelin voisinko kääntää tämän uuden Startup way kokeilukulttuurin johtamiskirjan myös suomeksi. Sain käännösoikeudet.
Suunnitelmana oli kääntää 1 sivu päivässä. 400 sivua olisi siis 400 päivää. Matkan aikana sain 60 sivua valmiiksi. Nyt 400 päivää myöhemmin koko kirja on käännetty. Kiitos kaikille jotka olette auttaneet oikolukemaan kirjaa. Seuraavaksi kirja valmistellaan julkaisua ja painoa varten.
Kirja julkaistaan 17 lokakuuta 2019. Jos haluat ennakkotilata kirjan, laita Facebookissa viestiä: https://www.facebook.com/IlkkaLavas/ tai pistä sähköpostia ilkka.lavas (at ) city.fi niin saat ennakkotilaustarjouksen josta et voi kieltäytyä. Voit myös käyttää palautelomaketta.
STARTUP WAY – SUOSITUKSIA
"Eric Ries saattaa hyvinkin olla uusi Peter Drucker. Tämä mestariteos purkaa auki sen, kuinka moderni organisaatio voi synnyttää kestävän kokeilukulttuurin." – Robert I. Sutton, Stanfordin yliopiston professori, Scaling Up Excellencen sekä The Asshole Survival Guiden kirjoittaja
"Startupit ovat kokeiluja – osa menestyy, osa ei. Joka tapauksessa startuppien kokeilukulttuuri on paras tapa testata uusien ideoiden toimivuutta. Miten sitten korporaatio voisi olla yhtä ketterä kuin startup … tai miten herätetään henkiin se alkuperäinen tekemisen meininki, joka alunperin synnytti yrityksen? Lean Startup -kokeilukulttuuriin pohjautuva kirja näyttää, kuinka kokeiluja johdetaan isoissa organisaatioissa." – Marc Andreessen, Andreessen Horowitzin perustaja
"Olen omin silmin nähnyt, kuinka Eric Ries jalkauttaa Lean Startup -kokeilukulttuurin johtamista nopeasti ja laajasti isoon yritykseen. Startup Way – kokeilukulttuurin käsikirja on olennainen teos niin pienille kuin isoille yrityksille, jotka etsivät kestävämpiä tapoja, kuinka yritys voi kasvaa." – Beth Comstock, GE:n hallituksen varapuheenjohtaja
"Jokaisen johtajan, joka haluaa olla kehityksessä mukana, kannattaa pohtia tämän tärkeän kirjan oppeja. Eric Ries esittää jälleen kerran, kuinka parhaat ideat ovat sekä järkeenkäypiä että raikkaita. Elintärkeä opas moderneille yrityksille – jättiyrityksille, perheyrityksille sekä kaikille organisaatioille – tulevaisuutta varten." – Lawrence Summers, Harwardin yliopiston Charles W. Eliot -professori sekä aiemmin Yhdysvaltain valtionvarainmisteri
"Jatkuva innovointi auttaa menestymään pitkällä aikavälillä. Eric todistaa, miten kaiken kokoiset organisaatiot – eivät vain startupit – voivat synnyttää ja johtaa kokeilukulttuuria. Pivotoi-tai-kuihdu -yhteiskunnassa tämä on elintärkeää luettavaa." – Reid Hoffman, LinkedInin perustaja sekä New York Times bestsellerien The Alliance sekä The Start-up of You kirjoittaja
"Korporaatio on yleensä sellainen, missä yrittäjät tukahtuvat kuoliaaksi, mutta Eric Riesillä on salainen suunnitelma, jolla nämä saadaan liekkeihin. Tämä kirja on erittäin hyödyllinen opas jokaiselle julkisissa organisaatioissa, yrityksissä sekä yhdistyksissä, joissa on tarvetta saada innovaatioista kipinää sekä vauhdittaa muutoksen voimaa." – Adam Grant, Originals, Give and Take sekä Option B -kirjojen kirjoittaja yhdessä Sheryl Sandbergin kanssa